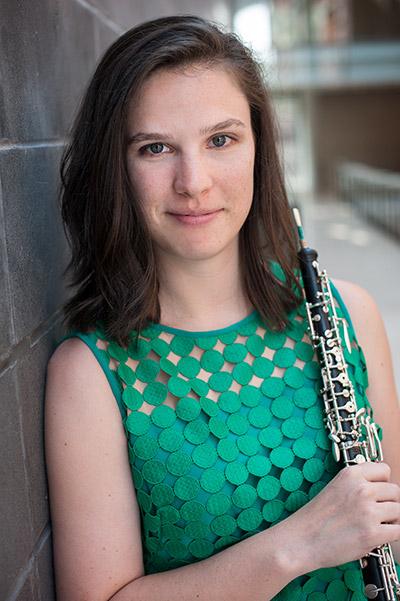 A native of Quincy, IL, oboist Emily Hart is on the faculty at the Western Illinois University School of Music where she teaches oboe as well as classes in music appreciation and popular music. Prior to her appointment at WIU, she served as the oboe instructor at the Eastman Community Music School in Rochester, NY. She also serves on the summer faculty at Blue Lake Fine Arts Camp in Michigan, and served as director and instructor of the WIU summer oboe specialty camps for several summers.
Emily made her solo orchestral debut at the age of seventeen with the Quincy Symphony Orchestra, and has gone on to develop an active performing career both in the United States and abroad.  As an orchestral musician Emily has performed under the baton of world-renowned conductors including Leon Fleischer, Julian Kuerti, and Johannes Debus. She has performed with the Rochester Chamber Orchestra in Rochester, NY, the Royal Conservatory Orchestra in Toronto, Ontario, and currently plays English Horn in the Quincy Symphony Orchestra. Emily also enjoys an active chamber music career, and is a member of the Toronto-based Tiburón V Woodwind Quintet, winners of the 2016 Glenn Gould School Chamber Music Competition. She is also a member of the Camerata Woodwind Quintet, ensemble in residence at Western Illinois University.
Emily has been a member of several recording projects, and can be heard on the chamber group Madrigalia's album On This Day, The Earth Shall Ring. She also recorded a song on singer-songwriter Esto's album Houghton-Hancock Hum-Alongs, and recorded the oboe excerpts for the fourth edition of Samuel Adler's textbook The Study of Orchestration. A proponent of modern music, she actively programs modern solo repertoire into her recital program, and has been a member of Musica Nova at the Eastman School of Music, the New Music Ensemble of the Royal Conservatory and the Eastman Sinfonietta, which performs works exclusively by Eastman School of Music composers.
Emily holds a Master of Music in Oboe Performance and Literature from the Eastman School of Music, where she was a student of Richard Killmer, and a Bachelors of Music in Oboe Performance from Western Illinois University. Other principal teachers include Sarah Jeffrey (Principal Oboe, Toronto Symphony Orchestra), and Michael Ericson (Western Illinois University). Emily lives in Macomb, Illinois, and when not making music she can be found hiking, kayaking and generally spending as much time as possible outside.