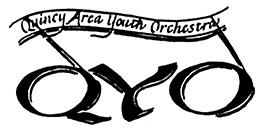 The Quincy Area Youth Orchestra joined QSOA in 1993. QAYO attracts junior and senior high school students from the tri-state area of Illinois, Iowa, and Missouri. QAYO rehearses weekly during the school year, mostly on Saturday mornings and Sunday afternoons.
Tuition for the year is $60, with a discount for siblings. Tuition is free for families with significant financial need. More detailed information may be found on the QAYO Brochure, or call 217-222-2856 or e-mail us at [email protected]dams.net.
Quincy Area Youth Orchestra Conductor
Performances
Young Artists Concert
The QAYO will join the QSO side-by-side for a brand new work for orchestra composed by William Camphouse. The piece was commissioned for the youth orchestra in honor of the QSOA 75th Anniversary.
Sunday, Feb. 19, 2023 3:00pm
QJHS Morrison Theater
$15 Seniors, $18 other adults. Children under 18 admitted free.
Spring Concert
The progression and quality of our young musicians is showcased every year at a spring concert.
Date TBA, 7:00pm
Salvation Army Kroc Center
Admission is free – donations to the QAYO are encouraged.
Auditions
All musicians must audition each year for the QAYO.  Auditions will be done virtually by submitting a video link to Dr. Cangro. Audition requirements are specified in the "QAYO Auditions Instructions" document below.  Membership is limited.  Submit video auditions by September 30, 2022.
Registration:  Students will submit a Registration Form and tuition payment after being accepted into the ensemble.
QAYO Downloads
QAYO Brochure (PDF – Updated 9/24/21)
The Quincy Area Youth Orchestra is funded in part by Encore! Symphony Volunteer Council, the Michelmann Foundation, the Tracy Family Foundation, the Samantha Otte Youth Opportunity Fund, Jayne & Leroy Boeckelman Fund for Young Musicians, Arthur O. & Lela B. Lindsay Fund, and Alan L. Stiegemeier and Mary Ellen Stiegemeier Charitable Fund of the Community Foundation, and the Illinois Arts Council Agency.
More Information
Pay Tuition Online