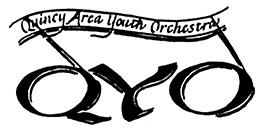 The Quincy Area Youth Orchestra joined QSOA in 1993. QAYO attracts junior and senior high school students from the tri-state area of Illinois, Iowa, and Missouri. QAYO rehearses weekly during the school year, mostly on Saturday mornings and Sunday afternoons.
Tuition for the year is $60, with a discount for siblings. Tuition waivers are available for families with significant financial need. More detailed information may be found on the QAYO Brochure, or call 217-222-2856 or e-mail us at qsoa@adams.net.
The audition date will be Sunday afternoon, October 7 at QND High School.  Call 217-222-2856 by October 4th for an appointment time.
Late auditions may be scheduled directly with Dr. Cangro by calling 309-298-3114.  All new and returning musicians must audition each year. Rehearsals begin on November 18, 2018.
Quincy Area Youth Orchestra Conductor
2018-19 Audition Materials
Please select audition materials by instrument below.  Each download is a PDF file.  Updated August 2018.
QAYO Downloads
2018-19 QAYO Application (PDF – Updated August 2018)
2018-19 QAYO Schedule (PDF – Updated September 2018)
QAYO Brochure (PDF)
2018 – 2019 Season Concert Dates
SPRING CONCERT
Sunday, March 10, 2019 – 7:00pm
The Kroc Center
Corner of 5th & Vermont Streets, Quincy, IL
Admission free, Free-will donations encouraged