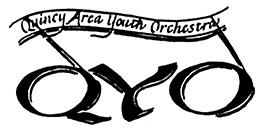 The Quincy Area Youth Orchestra joined QSOA in 1993. QAYO attracts junior and senior high school students from the tri-state area of Illinois, Iowa, and Missouri. QAYO rehearses weekly during the school year, mostly on Saturday mornings and Sunday afternoons.
Tuition for the year is $60, with a discount for siblings. Tuition waivers are available for families with significant financial need. More detailed information may be found on the QAYO Brochure, or call 217-222-2856 or e-mail us at [email protected]
Quincy Area Youth Orchestra Conductor
Performances
The QAYO will join the QSO side-by-side for Florence Price's "Dances in the Canebrakes" arranged by William Grant Still.
Sunday, Feb. 13, 2022 3:00pm
QJHS Morrison Theater
$15 Seniors, $18 other adults. Children under 18 admitted free.
Spring Concert
The progression and quality of our young musicians is showcased every year at a spring concert.
Sunday, March 27, 2022 7:00pm
Salvation Army Kroc Center
Admission is free – donations to the QAYO are encouraged.
Auditions
Late auditions are being accepted for limited vacancies.
All musicians must audition each year for the QAYO.  Auditions will be done virtually by submitting a video link to Dr. Cangro. Audition requirements are specified in the "QAYO Auditions Instructions" document below. The initial audition deadline has passed. Late auditions are being accepted to fill a small number of remaining vacancies. Contact Dr. Richard Cangro [email protected] regarding remaining openings.
Registration:  Students will submit a Registration Form and tuition payment after being accepted into the ensemble.
QAYO Downloads
QAYO Brochure (PDF – Updated 9/24/21)
The Quincy Area Youth Chorus is funded in part by Encore! Symphony Volunteer Council, the Michelmann Foundation, the Tracy Family Foundation, the Samantha Otte Youth Opportunity Fund, Jayne & Leroy Boeckelman Fund for Young Musicians, Arthur O. & Lela B. Lindsay Fund, and Alan L. Stiegemeier and Mary Ellen Stiegemeier Charitable Fund of the Community Foundation, and the Illinois Arts Council Agency.
More Information
QAYO Audition Instructions (PDF – Updated 11/02/21)
QAYO 2021-22 Season Schedule for Musicians (PDF – Updated 11/02/21)
Pay Tuition Online