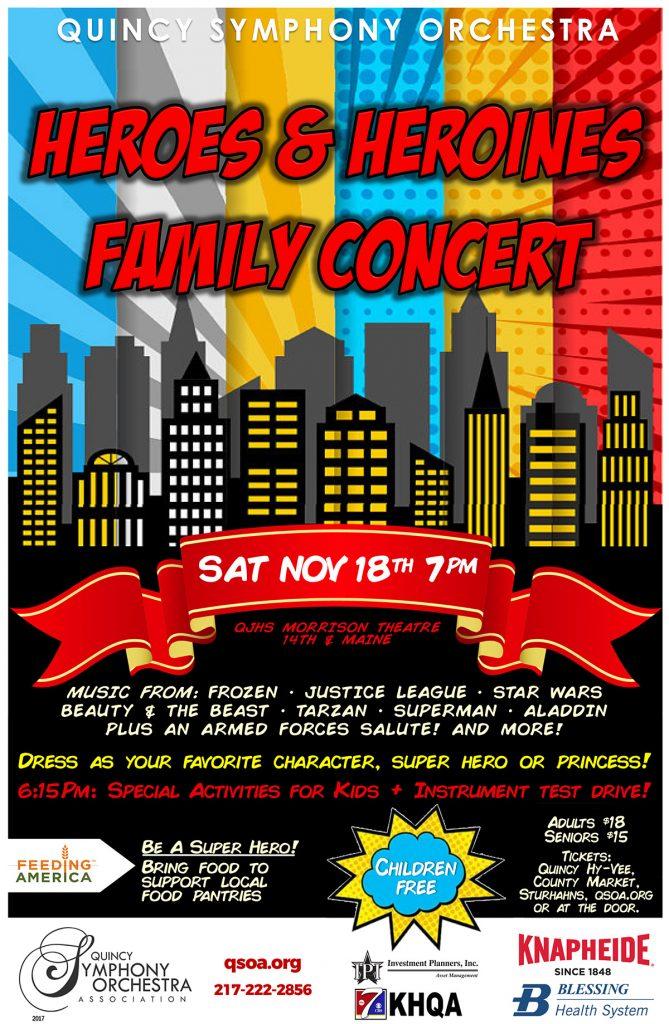 Quincy Symphony Orchestra | 7 pm Saturday, Nov. 18, 2017 | QJHS
Bring the whole family to this magical event for all ages featuring music from Disney, Star Wars and more.
Pre-concert crafts/games and musical instrument demonstrations for kids from 6:15pm-6:45pm.
Costumes encouraged: Orchestra musicians will dress in costume and hope you'll do the same! Children and adults alike should feel free to dress as your favorite superhero, princess, Star Wars or mythical character, or real life hero!
Please bring non-perishable foods to support local pantries.
Heroes and Heroines: Justice League Medley
Disney's New Classics Medley
(Aladdin, Beauty & the Beast, Hunchback, Little Mermaid, Pocahontas, Lion King)
Star Wars Main Title
Tarzan
Roque One, A Star Wars Story
Frozen
John Williams' Superman March
Armed Forces Salute
Tickets $18 Adults, $15 Seniors, Free for youth 18 and under
QJHS Morrison Theater, 100 S. 14th St., Quincy, IL
Silver Baton Concert Sponsor

Silver Baton Artist Sponsor
Arthur and Lela Lindsay Family
Silver Baton Media Sponsor

Maestro Music Sponsor