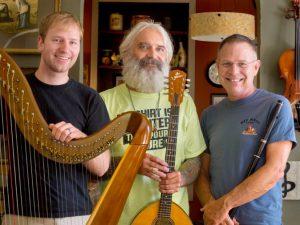 Steve Rees
Steve Rees grew up in Quincy, picking up the guitar, mandolin and banjo while in High School. He performed at many school events and several restaurants and bars during the 1970's and eventually moved to Austin Texas where he worked in Social Work and landscaping, purchasing the landscape company he worked for in 1986. All during this time he developed a love of Celtic music, teaching himself the Scottish Highland bagpipes and the Irish Uilleann bagpipes. In 1994 he formed the Celtic band Two O'clock Courage, which became a popular band in Austin and beyond, playing clubs and festivals throughout Texas and the southern United States. The band recorded two acclaimed CD's and disbanded in 2001. Steve moved back to Quincy in 2006.
Tony Blackford
Tony grew up in Shelby County, MO where he attended public schools.  He started learning music and rhythm in the 3rd grade and started playing the saxophone in the 5th grade.  He continued into high school playing in the concert band, marching band, and jazz band. Throughout his life he has remained a lifelong musician playing with many local community bands including the Hannibal Community Big Band, Quincy Community Concert Band and Quincy Park Band. These days Tony's musical passion is driven by his love for Irish/Celtic Music playing the Irish tin whistle and Irish wooden flute.   Tony lives in Quincy Ill and is the father of 2 grown children and 7 grandchildren.  He works as a Registered Nurse in Ambulatory Care at Quincy Medical Group.
Eric Steitz
Eric grew up in a family of musicians.  From a young age he began to learn music by ear starting with the piano.  In grade school he began playing the mountain dulcimer and penny whistle.  Later he learned the hammered dulcimer, Irish flute, and harp.  He enjoys listening to a wide variety of music, however, Irish music is his favorite.  He has played for several weddings and small events through the years and met his wife doing so.  Although music is truly a passion of Eric's, flying is another.  Eric is employed by an airline in St. Louis and earns a living flying throughout the United States and Canada.